Our Products
Below is a brief desciption of some of the products we offer. For more detail information and attachments, please follow the appropriate links.
KIC DensityProfiler
The KIC DensityProfiler allows unprecedented optimization of all quality measures, including both caliper and density profiles. The DensityProfiler objectively improves reel building by placing measurement where it counts—at the reel.
Read More
RA-Profiler
The KIC RA-Profiler is an integrated-process solution for reducing RA values on a multitude of steel and poly rolls. Bases on a solution-orientated approach, the RA-Profiler can be tailored to meet an array of conditions, from large scale cleaning to fine polishing. Eliminates the need to continually remove and grind rolls, while increasing target gloss and smoothness.
Read More
Magic CD/MD Software Suite
The KIC CD/MD Control Software package utilizes control software techniques to improve quality and uniformity for sheet-process manufacture, while minimizing process upsets and raw material usage. Any manufacture requiring an equal distribution of their product, or equal distribution of their product quality influences, will benefit by installing this package.
Read More
K-Lub Lubricants
K-Lub 664 is a high temperature lubricant designed especially for use in automatic remote injector systems in high temperature service. When using competitive materials, bearings and hot feed lines often fill with ash deposits. This leads to bearing failures and high maintenance expenses.
Read More
AccuSteam Shower
Installation at the wet end of a paper machine
The AccuSteam is installed in the wire-section to support and control the de-watering process of the vacuum boxes. The other option to install an Accusteam is in the press section in front of the first orsecond press, to support and control the de-watering process in the press nip In all cases the steam application by the AccuSteam raises the web temperature.
The effect is that fluid viscosity and surface tension will be reduced and the dewatering process done by vacuum box or press nip is easier and more effective.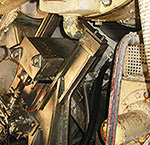 Installation at the dry end,calender or converting machines
AccuSteam installed direct in front of a calender Nip to improve and control the gloss or smoothness Furthermore the Accusteam can be installed in front of a winder or after a coater unit to raise and control the sheet moisture to control the de-curling by re-moisturing the sheet.
The steam application can be compared with the "steam iron procedure".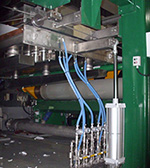 Parts
AccuSteam Service "Zone Control Valve"
Damaged nonW&H valves can be replaced by our W&H valve connected with a tailor made adapter. Furthermore we are able to overhaul any zone control valve from other suppliers.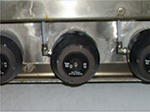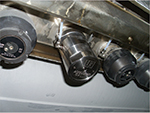 AccuSteam Service "I/P Converter"
The unit is supplied and controlled by a two- wire connection 4-20 mA, also usable toreplace the four- wire connected converter.Our standard pressure ranges are 0,8- 4bar and 0,4- 2bar.
We are able to replace the complete I/P converter unit in a cabinet by using our own racks, Modification and upgrades for the PLC control parts are also possible.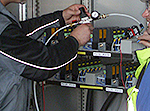 AccuSteam Service "Modification"
We are a competent partner also for rebuild. Modification or redesign of existing systems. We modernize steam lines and the auxiliary equipment. The picture below shows the rebuild from anonW&H Steamshower from first to second press position. Exchange of a plastic protective hose to stainless steel hose (for the pneumatik tubes). Modification from the steam connection.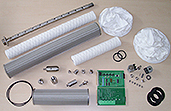 Content Provided by Woollard & Henry LTD
Dandy Rolls
We manufacture dandy rolls up to 1800mm diameter in both stainless steel and phosphor bronze. We have three manufacturing methods, Punched Rolls up to 320mm diamter, Helical Rolls from 300mm diameter to maximum and Dougsens.
Wove rolls with diagonal or straight seams, single or multiple covers in either stainless steel or phosphor bronze.
Laid dandy rolls can be produced in either Chain or Plate Laid. Chain Laids can be produced in either stainless steel or phosphor bronze up to 1200mm diameter. Plate Laids at present can be produced up tp 450mm, however we are investing in technology to increase this.
All our dandy rolls can be produced up to 9 meters in length.